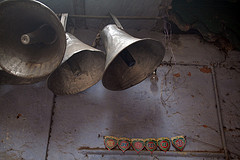 If you are running a DNS server, then you need to check it is not being co-opted into 'DNS amplification attacks'.
Random nasty servers (typically part of virus created bot-nets) send your DNS server a short request but use a fake source IP address.  Your DNS server then sends a (typically) long reply back to that fake source IP address.
The fake source IP address gets a lot of traffic from your DNS server.  You get abuse complaints.  Your server uses a ton of bandwidth.
Why do the 'nasty servers' do this?
First, their involvement is hidden.  The target IP is getting traffic from your server responding to the fake source IP.  And you cannot easily tell where the traffic is really coming from.  Typically the requests are fire-and-forget UDP requests.