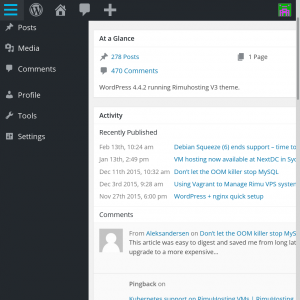 According to Wikipedia, "WordPress is the most popular blogging system in use on the Web, at more than 60 million websites."  It's also the most commonly installed blogging system on our customers' servers, and we use it to run the blog you're reading right now.
One factor that has contributed to WordPress 's popularity is its ease of installation.  And because it is so popular many themes, extensions and other add-ons are available, documentation and help resources abound, and an ecosystem of support companies has grown up around it.  These provide a positive feedback loop, helping to reinforce its popularity.
But as well as being easy to install and popular, it is also the most commonly exploited system we host.  That's because its popularity has led to increased interest from hackers, and also because the install defaults are not as secure as they could be.  If a hacker can leverage these weaknesses to crack a password for your site, they will often use it to send spam or distribute exploits designed to hack into other computers.  Even without cracking a password, many wordpress sites can be used to attack other sites.  If your WordPress system gets exploited you'll have the unenviable task of cleaning that up, made a bit easier thanks to Liz's restore wordpress script.
Secure WordPress in 5 easy steps